This course is mapped to the popular Cybersecurity Professional Certification Exam from US-Council.
The cybersecurity professional course provides comprehensive training in all aspects of cyber defense methodologies. This course covers the proactive defense mechanisms required of a cybersecurity professional including ethical hacking, firewalls, IPS, vulnerability assessment and cryptography. Vital cybersecurity reactive techniques are also discussed including SIEM, mobile and digital forensics, log analysis and patch management. This course consists of three modules viz
Security Risk Assessment (Ethical Hacking)
Proactive Defense and Countermeasures
Incident Response and Management
A thorough understanding of the underlying principles of networking and operating systems is a prerequisite to pursuing this advanced course. The student is expected to be knowledgeable in IP networks, TCP / IP stack, protocols like http, https, ICMP, ARP, services like DNS, DHCP, LDAP, telnet, ssh as well as routing protocols like RIP, EIGRP, BGP, etc. Expertise in Linux and Windows servers and related technologies is a must.
Key Topics:
Security Risk Assessment
Dos and DDos Attacks
Attack Mitigation Techniques
Firewalls, IDS, IPS
Cryptography
Incident Response and Management
Log Analysis
Forensics
The course will cover:
Module 1: Security Risk Assessment (Ethical Hacking)
Module 2: Proactive Defence and Countermeasures
Module 3: Incident Response and Management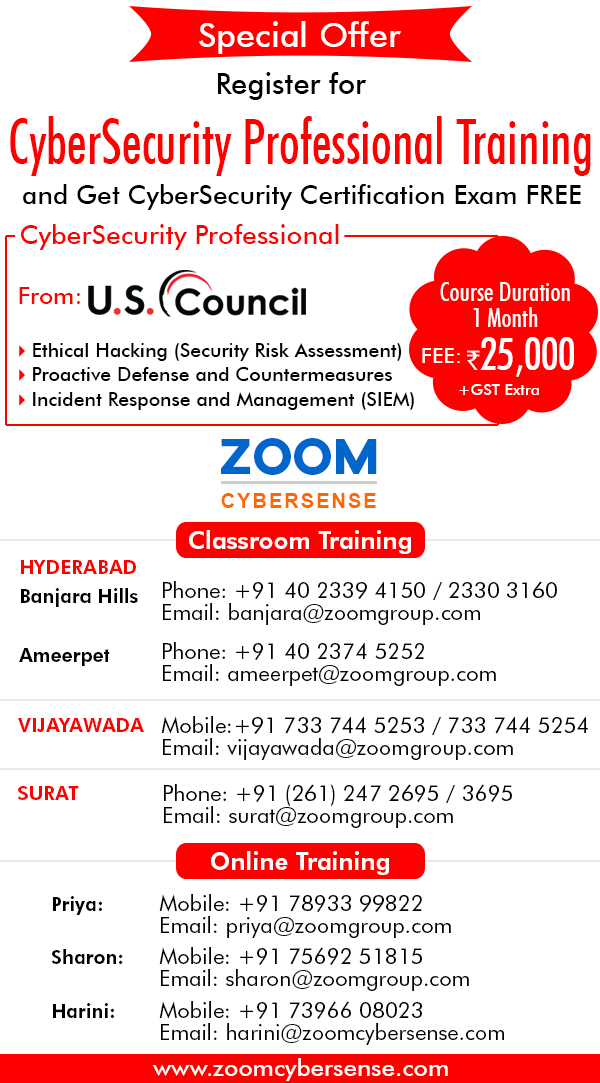 This training course is available in Classroom mode and Online Classroom mode.
Online Classroom Training can be taken from anywhere in the world.
It is an easy way to join a live classroom session. Students can log in from their homes and virtually join the class on Webex. The classroom session will be streamed online for the online classroom subscribers. The instructor will be simultaneously teaching a physical and online classroom. After the session ends, the instructor will take questions from the online classroom students and clarify any doubts.
Flexibility: Access to attend the course from anywhere via internet - No travel required - cost effective.
Learning Experience - Online classrooms are an interactive, two-way learning experience.
Kindly contact us at: info@zoomcybersense.com for more details.
Classroom / Online Classroom Schedule
Date
Course Outline
Price
30th September, 2020
7:30 PM (IST - GMT +5.30)
PDF
31st October, 2020
7:30 PM (IST - GMT +5.30)
30th November, 2020
7:30 PM (IST - GMT +5.30)